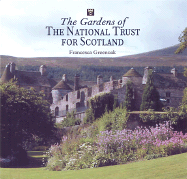 cloth, 223 p., $55.00
Only recently have the gardens of Scotland begun to receive the public appreciation that they so richly deserve for their beauty. According to garden writer Francesca Greenoak, seventeenth-century records exist of visitors praising distinguished sites, but only lately has there been a true assessment of their quality, history, and horticultural significance in Scottish culture.
The author points out that Scottish gardens differ significantly in geography, topography, and history from those in the rest of the British Isles. Although plantings have a short growing season, the gardens thrive due to long summer days. Contending with some of the worst of nature's challenges, including winds and wet soils, their gardeners are notably skillful. What gives them special interest is that romantic building architecture and garden styles are more closely linked to continental influences. Gorgeous color photographs by Brian Chapple and others illustrate how the gardens provide magical settings for castles, palaces, and manor houses of a former age.
To assist the reader in gaining a better understanding of their significance, the author details the history of the development of 35 large gardens and reviews their design and plantings. The descriptions of the collections of these National Trust gardens also include profiles of smaller sites throughout Scotland. Besides a handy locator map, there are specific directions to each garden.
— Marilyn K. Alaimo, garden writer and volunteer, Chicago Botanic Garden