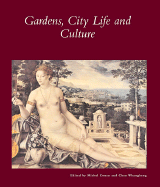 Publisher:
Dunbarton Oaks Research Library and Collection (distributed by Harvard University Press, Cambridge, Mass.)
paper, 274 pp., $40.00
This scholarly collection of papers by an array of distinguished contributing authors from around the world directs the reader's attention to the importance of gardens in the cultural development of cities, emphasizing the meaning of gardens and parks to people. Exploring the contributions of gardens, historically and in modern cities, the text notes the differences and similarities in diverse societies, beginning with the remarkable importance of gardens to the citizens in ancient Pompeii. In the second section of the text, contributors consider the challenges of park planning, noting the successes and failures of policy-makers in serving the public. This intriguing volume contains a fascinating analysis by the editors that summarizes the findings of this symposium.
— Marilyn K. Alaimo, garden writer and volunteer, Chicago Botanic Garden