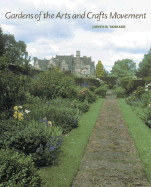 cloth, 216 p., $50.00
The Arts and Crafts Movement, an aesthetic trend in art and design that arose around the end of the nineteenth century in Britain and America, rejected the elaborate decoration popular during the Victorian era in favor of simplicity, unity, and utility in design, as well as the use of natural materials, handcrafts, and vernacular forms. Reviving styles of former periods, architects created buildings and nostalgic gardens, seeking to unify the structures, their interiors, and grounds into an integrated composition. In essence, this marriage of house and garden led to the development of the garden room in domestic architecture.
Readers will appreciate the author's critical discussion of the personal life and accomplishments of the individuals connected with this movement, both overseas and in America. There were relatively few proponents of this style in the United States, and garden historian Judith Tankard notes the reasons why this was so. She also reveals many interesting facts connected with the movement, such as the erupting controversy between professional architects and landscape gardeners over whether design or horticultural content was more important in the garden. The author has amassed a valuable collection of both contemporary and period photographs, watercolors, and drawings of the era that document the application of this style in both British and American landscapes. The stunning photographs and directory of gardens open to the public offer readers the opportunity to view some of the most inspiring homes and gardens here and abroad. The book is highly recommended for historians, professionals, and students in the field of design for its text and reference materials.
— Marilyn K. Alaimo, garden writer and volunteer, Chicago Botanic Garden