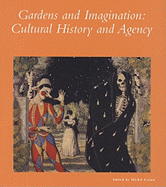 Publisher:
Dumbarton Oaks Research Library and Collection
paper, 259 pp., $35.00
This publication is based on lectures at a 2006 symposium, cosponsored by the Huntington Library and Dumbarton Oaks Research Library. It is a collection of essays by distinguished authors from around the world, with a focus on how imagination and memory affect garden development. Editor Michel Conan challenges the concept that "all gardens in the world simply give a sense of being in Paradise." Writing in a scholarly literary style in the introduction, he reviews different perspectives in the study of garden imagery, dividing the works into performative roles; cultural constructions; dialectics of fiction and life; and individual processes. This compilation of writings emphasizes the diversity of design concepts in classic gardens worldwide. The symposium's lectures should be of great interest to garden historians and others.
— Marilyn K. Alaimo, garden writer and volunteer, Chicago Botanic Garden