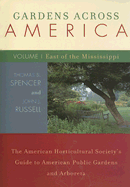 paper, 460 p., $19.95
Creating a directory of public gardens in America is an ambitious undertaking. First, the size of the territory covered is challenging. The editors have wisely separated the work into two volumes, with the Mississippi River as the east–west dividing line in the United States. The gardens and arboreta are then listed alphabetically by their locations, first by state and then by towns and cities in each state; a handy locator map of each city in a state is useful for visitors.
Determining what constitutes a "public garden" is not clearly identified in the guide. The selection of sites includes more than display gardens and educational collections. The editors also list cemeteries, nature preserves, and wildlife refuges. It also includes many popular sites that may be more well known for their historic connections rather than their garden displays per se. Yet surprisingly, the directory does not appear to be consistent in its inclusions. Zoos, which were historically among the earliest public gardens, are missing. This is surprising, for display gardens of geographic plants — the botanical collections used in global habitat research — are popular public attractions.
Quite understandably, because the directory is limited in space, the guide can not include all of the approximately 800 botanical gardens and arboreta or the seasonal town displays across the country. However, the two volumes contain detailed information on nearly 2,000 locations, making it the most extensive directory of its kind. Each site listing includes such data as address, phone, and Internet address, admission fees, wheelchair accessibility, hours, facilities, tours, etc., which is followed by a brief description of the place. The sketch is particularly helpful to visitors who wish to plan their travel itinerary. All are cautioned to check in advance with a site to confirm that such pertinent information as hours and fees is current.
— Marilyn K. Alaimo, garden writer and volunteer, Chicago Botanic Garden