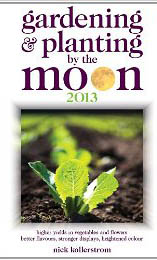 Publisher:
Quantum (imprint of W. Foulsham & Co.)
paper, 209 pp., $19.95
"The pull of the moon is considerable. Not only does it move tides twice a day, it pulls on the Earth. Many gardeners and farmers are rediscovering the benefits of planting according to its phases, part of a profound knowledge neglected by modern techniques." So wrote HRH, the Prince of Wales, in Harmony: A New Way to Look at the World (p. 137, London: HarperCollins, 2010).
This book is a manual for all seasons, and more than just a lunar calendar. It is an everyday workbook filled with natural advice, organized as a timetable to work day-by-day. The text starts with a lunar calendar for October, November, and December 2012, extending every day into 2013. Each page provides plenty of room for notes, and it will take a little work to understand some of the symbolism attached to each day. For those interested in a truly cosmic approach to their gardening, this book provides plenty of advice in its slim and handy format. Just like in any almanac, there's plenty of information packed into this work.
— Adele Kleine, volunteer, Chicago Botanic Garden.