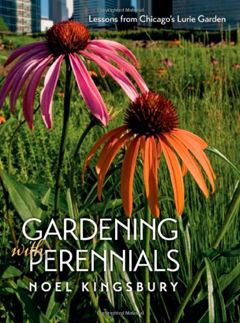 Publisher:
University of Chicago Press
Cloth, 376 pp., $39.95.

The style of planting in Chicago's Lurie Garden, as described in this book, provides some ammunition in never ending native/non-native plant debate. Originally designed by Piet Oudolf, the Lurie Garden is part of Millennium Park in downtown Chicago. Covering a little over 24 acres, the site was built over an underground garage, which in turn was constructed above railroad tracks. This book provides further details in a brief history of the Garden.

Weather provides many challenges to plant selection in this Garden. Those plants described in this work will appeal to home gardeners interested in experimenting with perennials and native plants. Diagrams, photographs, and a directory of plants gives concise information on perennials, ornamental grasses, and bulbs found in the Garden. Overall, this book will help gardeners in expanding their botanical and horticultural horizons. - Elaine Juhl, volunteer, Chicago Botanic Garden.