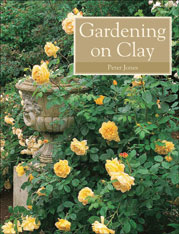 Publisher:
Crowood Press (distributed in the U.S. by Independent Publishers Group, Chicago)
paper, 112 pp., $32.95
Soils rich in clay present some of the greatest challenges to gardeners in every season. Peter Jones, a British gardening expert and nursery owner, has long experience dealing with such problems in Europe and particularly Britain where he was trained. He provides details in this work on drainage, management, fertilization, and mulching of clay soils, aimed at British gardeners and applicable to those dealing with clay soils everywhere. He suggests using hardy plants to shelter soils from excessive winds; improved planting methods and lawn preparation; and plant selection for both gardens and containers. Looking to the future, he addresses the timely topic of the effect of climate change on plantings in clay soils.
— Marilyn K. Alaimo, garden writer and volunteer, Chicago Botanic Garden