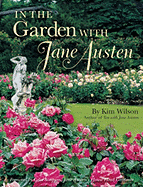 paper, 114 pp., $21.95
Stroll through delightful English pleasure grounds with a literary great, Jane Austen, and the characters in her novels. Author Kim Wilson provides the reader with an enchanting guide to gardens familiar to Austen, whose charming published works captured the lifestyles of the regency period. Beginning with Austen's own home grounds, Wilson presents examples of cottage gardens, farm and parsonage gardens, mansion and manor house gardens, city gardens, public gardens, and parks. Adding interest to her narrative are collections of verses from Austen's novels, descriptions and photographs of existing period gardens, information on historic sites to visit, and much, much more. Topping off the work is a chapter on how to
re-create Jane Austen's cottage garden for her fans who admire this romantic garden style. This publication's pleasing combination of text and attractive illustrations make it a refreshing book to peruse.
— Marilyn K. Alaimo, garden writer and volunteer, Chicago Botanic Garden