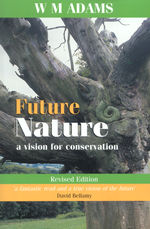 paper, 276 p., $24.95
Although hunting reserves were set aside by British rulers centuries ago, American readers will find it rather surprising that the British people took so long to commit to the establishment of conservation sites in the United Kingdom. In this scholarly review of the history of the conservation movement, author Bill Adams mentions that the first donation of land for this purpose was to the National Trust in 1912. However, it was not until 1934 that a Standing Committee for National Parks became a part of government. In 1942, there was a specific recommendation that national parks be established and managed by a central authority.
Despite these encouraging steps, conservation activities in the United Kingdom became hopelessly bogged down by government bureaucracy after World War II; the lengthy list of acronyms for committees and agencies is an alphabet soup of organizations. Segments of the population, unwilling to support any form of conservation, strongly resisted any movement that might affect their land and water rights. The delay in augmenting programs to save particular habitats eventually and sadly led to their loss.
The loss of native habitat, the evolving social changes and economic pressures appear to have dampened Adams's positive vision of nature conservation for his country. In this edition he points to new challenges, but he also can report that more people now have access to larger areas of the natural environment than ever before, and that there is greater acceptance of the concept that conservation is a good thing. Well documented and beautifully written, there are lessons to be learned from this well-told story.
— Marilyn K. Alaimo, garden writer and volunteer, Chicago Botanic Garden