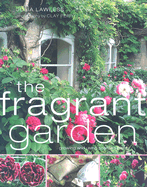 paper, 160 p., $27.50
Unlike color in the garden, fragrance has a fleeting quality in the landscape. And yet, despite its ephemeral nature, scent provides a longer lasting and fonder remembrance of a garden than visual reminders. Working in the field of aromatherapy for the past two decades, British author Julia Lawless is particularly aware of the importance of scent. She shares her knowledge of aromatic plants in this handsomely illustrated book. Tracing the history of fragrant gardens from ancient to contemporary times, she notes that scent was intrinsic to medicinal and early pleasure gardens. However, during the eighteenth century, proponents of the English school of landscape gardening banished flowers and fragrance in their design of innovative landscape parks. Since then, gardening trends have encouraged the presence of fragrant plants in the landscape.
The author has written a wonderful book for browsing. She tells of the many uses of aromatic plants for health, cooking, and perfume. She gives tips on designing gardens and conservatories that feature fragrant plants. A major section of the text consists of a long list of plant species noted for their aromas. The individual profile contains a description of the plant, methods of culture, recommended varieties and cultivars, and suggestions for home uses. This inspiring publication will be a welcome addition to every gardener's bookshelf.
— Marilyn K. Alaimo, garden writer and volunteer, Chicago Botanic Garden