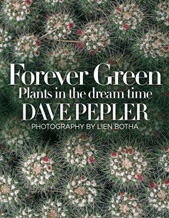 Publisher:
South Africa: Human & Rousseau
paper, 160 pp., $35.95
The popular television celebrity Dave Pepler relates his current thoughts and memories of 25 fascinating plants of his homeland, South Africa, in this collection of essays. Accompanying his text are attractive images of nature's wonders by photographer Lien Botha and valuable facts on plant culture by award-winning journalist Laurian Brown. This beautiful book is quite an impressionistic introduction to the fantastic flora of South Africa.
— Marilyn K. Alaimo, garden writer and volunteer, Chicago Botanic Garden