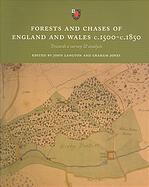 Publisher:
St. John's College Research Centre
paper, 118 pp., $50.00
When investigating the extent and history of areas reserved for forestry and hunting in England and Wales, British authors John Langton and Graham Jones expect to confront many difficulties. In this description of their plan of research and analysis, supported by many dedicated contributors, they review the problems of surveying and mapping, the forests and people, and the effects of changes over time in forest management to the ecology. Americans will find this compelling reading, for the medieval system of forest ownership and management, seemingly so foreign to the United States, may provide valuable lessons in the preservation of natural resources. At any rate, readers will gain a better perspective on the society during the reported period and the importance of forestlands over the years.
— Marilyn K. Alaimo, garden writer and volunteer, Chicago Botanic Garden