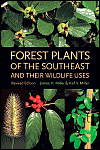 Publisher:
University of Georgia Press,
paper, 454 p., $34.95
This classic reference reflects the dedicated labor of two Georgia ecologists who have written a guide to 330 species of shrubs, palms, vines, grasses, and other vegetation that exist in the broad region of the Southeast. Each species profile describes its general habit, flowers, fruit or seeds, range, ecology, and importance to wildlife. An accompanying page illustrates one or more plantings in full color. The appendices includes a glossary that includes line drawings of plant parts, current readings in the field, and indices of genera by family, one of regional wildlife species, and a cross reference by botanical and common nomenclature.
Unfortunately, some color photographs are disappointing for several reasons: there is often a lack of picture clarity; the distinguishing parts of a plant have declined beyond recognition; or, the distance from the plant is too great. Readers may also find difficulty in reading those page numbers of a classification printed in a dark tone of green. However, these are only minor faults. What distinguishes this guide from others is its emphasis on the relationship of plants to wildlife. The authors, both experts in the field, have made a major contribution to this field.
— Marilyn K. Alaimo, garden writer and volunteer, Chicago Botanic Garden