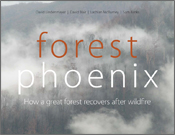 paper, 114 pp., $34.95
This delightful book explains the effects of a 2009 forest fire in Victoria, with a rich array of photographs before, during, and after the devastating event. The illustrations are supplemented with text by researchers who have decades of experience in these forests, providing insight into the ecological recovery of life in the area.
In four chapters, the work starts with a description of the fire and its immediate effects. The second chapter examines the recovery of plant life in the forest, while the third chapter treats the restoration of animals in the forests. The final chapter looks at the future of these fires. What effects are caused by humans, by global warming? This book provides valuable insights into the many effects of fire on the natural environment, especially in complex ecosystems found in Australia.
— Elaine Juhl, volunteer, Chicago Botanic Garden