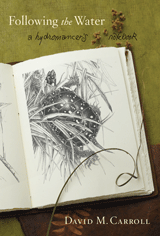 Publisher:
Houghton Mifflin Harcourt
cloth, 186 pp., $24.00
This award-winning author and artist, David Carroll, has written a lyrical journal, recording the changing patterns and sheer randomness of life on wetlands from March to November. In his role as a hydromancer, he reports on the images he comes across in water. Entranced since childhood by what he finds along the streams, he first focuses on the vagaries of weather in the spring and his annual quest to discover the "first" turtle to appear along a stream bank. Mesmerized by the variety of living things he spies in this ecosystem, he chronicles an ever-changing habitat and its creatures in their daily struggles for existence, often drawing them in fine sketches that capture their character and spirit.
— Marilyn K. Alaimo, garden writer and volunteer, Chicago Botanic Garden