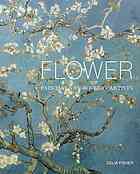 decorated boards, 96 pp., ISBN 978–0–711–23361–4, $19.95
Flower is a book to be cherished by those who love gardens, flowers, and the artists who gave us great paintings of them. The author selected 40 of her favorite flower paintings in approximately historical order, one painting per page—that is one of the great treats of the book.
Fisher's introduction is graced by Georgia O'Keeffe's Jack-in-the-Pulpit No. IV (1930); O'Keeffe's remarks that "Nobody sees a flower" are a catalyst for this small collection of artistic reproductions. Fisher traces the influence of the purity of line of Chinese and Japanese artists on modern artists. She includes Rachel Ruysch (1664–1750), a special painter, as well as some of the expected major figures such as Albrecht Durer, Marianne North, Picasso, Van Gogh, and Gauguin. Think of this book as a brief and painless art history lesson. You too will eventually see flowers, like O'Keeffe.
— Adele Kleine, volunteer, Chicago Botanic Garden