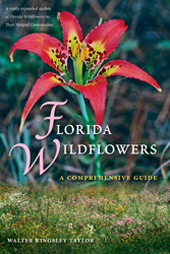 Publisher:
University Press of Florida
Flexible boards, 568 pp., $29.95.

Walter Kingsley Taylor, professor emeritus of biology at the University of Central Florida, continues his devotion to Florida's native plants by updating his original work, first published in 1998. The content has been vastly expanded. For instance, this guide has a new section on the major wetland communities in the state and their flora. His text begins with lessons on plant identification, structure, flowering times, distribution, and plant names. This is followed by the contents of the different types of environments. He suggests places to visit, a glossary, selected references, etc. More than 350 additional photographs of individual specimens and habitats are exceptionally clear and of a good size to help in identification. The author summed up his purpose in updating the classic work when he said, "My purposes in writing this book are, first, to help readers discover, learn, and enjoy our wonderful wildflowers and, second, to motivate each of you into becoming actively involved in protecting and preserving these gems and their communities." —Marilyn K. Alaimo, garden writer and volunteer, Chicago Botanic Garden.