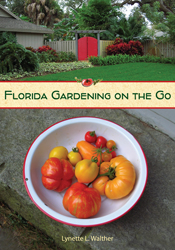 Publisher:
University Press of Florida
Paper, 183 pp., $22.95
This guide to gardening is keyed to the Florida climate, one that will keep dedicated gardeners busy all year long. After providing the fundamentals on plant culture for the region, author Lynette Walther turns to some of the challenges, such as weeds, insects, and diseases, as well as the extreme conditions that must be considered. The book is filled with ideas. Walther's theme is to encourage those with little time to seek respite in the garden through thoughtful planning as well as selecting appropriate plants.
— Marilyn K. Alaimo, garden writer and volunteer, Chicago Botanic Garden