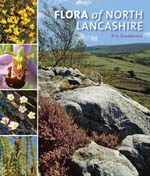 Publisher:
Palatine Books (imprint of Carnegie Publishing)
cloth, 647 pp., $79.95
A lifetime project of the author, this reference work includes a study of the history of the landscape of Northern Lancashire and its flora. The author draws attention to the changes in vegetation over time and its impact on humans. Greenwood discusses different habitats and plant communities; accompanying photographs in the text illustrate an intriguing variety of environments that must have fascinated the author in the creation of this important contribution to botanical literature. A catalogue of plants depicts the characteristics of individual northern Lancashire flora and its distribution in the region. A section of the study is devoted to research examining the regional introduction and extinction of individual species. Despite differences in climate and scenery, this book serves as a model for creating a comprehensive record and analysis of regional landscapes, vegetation, and flora everywhere.
— Marilyn K. Alaimo, garden writer and volunteer, Chicago Botanic Garden