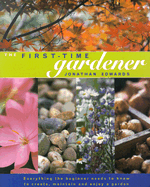 paper, 192 p., $22.00
Even though the principles set out in this book are by a British author they are applicable to gardening everywhere.
Jonathan Edwards begins this comprehensive work with a glossary of garden terms. He removes the mystery of gardening jargon with clear and succinct explanations. A "tender" plant, for example, is a plant killed by cold. "Herbaceous plants" are perennials that produce soft non-woody growth and die down each winter. "Hessian" is described as "sacking" — a British term for what in America is called "burlap."
Chapter 1 describes how to plan both a new garden or improve an existing garden. There is information on the choice of plants and the tools that will make all the difference. There is practical advice on when is the best time to plant and which is the best size plant to buy and even how to choose healthy plants.
Chapter 2 deals with "Essential Features" such as ground covers, flower borders, climbing plants, shrubs, potted plants and water features, all presented in easy to understand fashion. He explains how to overcome the difficulties of creating a new lawn. There are various charts of spring flowers and bulbs with planting depths explained, how many plants to the square yard, and the distance between plants. There are also lists of plants for shade, trouble-free perennials, and drought and weather resistant plants. The author has included a chapter on how to keep the garden looking good throughout the year and describes essential tasks for every season and for every part of the garden.
The final chapter on gardening basics deals with climate, soil, weeds, pests and disease prevention. Jonathan Edwards has provided an invaluable guide to achieve his goal that "gardening should be fun."
— Bluma Kaplan, volunteer, Chicago Botanic Garden