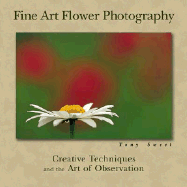 paper, 107 p., $19.95
As the author comments, flowers are the best of subjects, for they are colorful and don't object to being photographed. Master photographer Tony Sweet shares his artistic knowledge in creating stunning floral images through the lens of the camera. He explains how he uses a combination of his camera, subject, background, and environment to bring out their floral beauty. His abstract and impressionistic works express a great talent in producing lasting records of their splendor.
Beginning with better placement of the subject in the setting, he provides tips on basic and advanced composition. He offers clear instructions and different examples of photographic techniques to enhance the effects of the images, including multiple exposure and "slide sandwiching." This exciting and inspiring book will encourage readers to try their hands at photographing flowers.
— Marilyn K. Alaimo, garden writer and volunteer, Chicago Botanic Garden