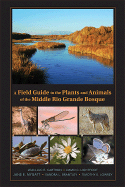 Publisher:
University of New Mexico Press
flexible decorated covers, 375 pp., $21.95
Located in the southern portion of New Mexico, the Middle Rio Grande Bosque, a cottonwood forest, is part of a complete riverside ecosystem. No longer a free-flowing stream, the water, the cause of the woodland's existence, supports a wide range of plants and animals in an otherwise arid landscape. This handy guide describes the physical and environmental setting prior to a discussion of the types of habitats that serve as home to more than 700 plants and animals, all depicted within the pages of this work. Extensively illustrated with color photographs, the book is user-friendly with color-coded pages for ease in handling while in the field. A map of the area accompanies directions to the main places to visit and other information about the locale.
— Marilyn K. Alaimo, garden writer and volunteer, Chicago Botanic Garden