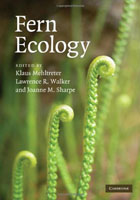 Publisher:
Cambridge University Press
paper, 444 pp., $58.99
Reportedly the first comprehensive summary of fern ecology with worldwide examples of their distribution, this text covers such topics as the history of the study of ferns, the role of ferns in individual habitats, and the results of their interactions with other organisms. Research ecologists have gathered together the most recent data on this subject; they reflect on all aspects of ferns, assessing their importance in the past and inquiring into their future, including both species that must be protected and problem ferns that must be controlled by proper management. Illustrated with photographs, line drawings, and tables, the text sets forth a guide to assist students and professionals in the study of this environmental science.
— Marilyn K. Alaimo, garden writer and volunteer, Chicago Botanic Garden