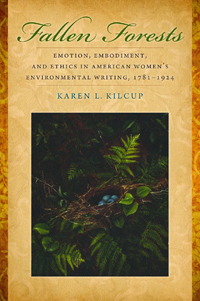 Publisher:
University of Georgia Press
Paper, 504 pp., $26.95.

An eminent scholar on American women authors in the nineteenth century, Karen Kilcup emphases the significance of their work on environmental issues. Among the topics under discussion are America's founding and the subsequent land wars. These essays address many subjects during the period, including the role and status of women in society. However, these essays are not simply criticisms of men and their habits in early America. For example, the subject of simple living points to the environmental evil of killing birds for fashion's sake. This volume will introduce to readers a number of authors and topics that provide a different perspective on a young country and its growing pains.
- Marilyn K. Alaimo, garden writer and volunteer, Chicago Botanic Garden.