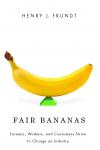 Publisher:
University of Arizona Press
paper, 273 pp., $26.95
Writing about fair trade practices in the production and distribution of bananas, sociologist Henry Frundt relates the history of the industry, its current practices, and the health and welfare of the workers who are ultimately responsible for raising and harvesting the most popular fruit crop in the world. In this book, Frundt expresses his hope that small farmers, workers, and nongovernmental organizations will come to an agreement on the principles of fair trade. By working together, they will create the needed changes in this industry through a fair-trade label for bananas. The author in turn also includes a wish that consumers living in the Northern Hemisphere would develop a greater appreciation for the problems of "southern" workers and show an increased concern over industry practices that ultimately harm the environment.
— Marilyn K. Alaimo, garden writer and volunteer, Chicago Botanic Garden