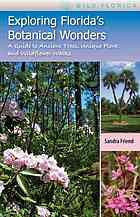 Publisher:
University Press of Florida
paper, 294 pp., $24.95
An expert hiker into Florida's wild domain, Sandra Friend encourages readers to experience the many places in Florida that are natural wonders, hoping that this will promote protection of its precious heritage. Featuring locator maps, this book is meant as a travel guide to distinct habitats in six regions of the state, beginning in the north with the Panhandle and ending in the Florida Keys at its southern extremity. Identifying 250 of the most interesting places of natural beauty in the state, the author has included distinctive flora on public lands and public gardens, as well as notable trees. She describes a site's notable features and provides travelers with visitor information on specific address, open hours, fees, etc. A section of the work is devoted to color photographs of some of the sites within the state.
— Marilyn K. Alaimo, garden writer and volunteer, Chicago Botanic Garden