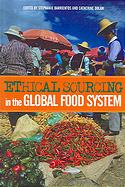 paper, 204 p., $42.50, cloth, $147.50
As the global food system is increasingly dominated by corporate food retailing, there is growing concern that small food producers and workers, particularly women and children, will be harmed by corporate sourcing strategies. As a result, there has been a growing movement toward encouraging fair and ethical practices within the food industry. The aim of this book is to define and examine the different initiatives for ethical sourcing, as well as the differences between 'fair trade' (which deals with the equity between producers) and 'ethical trade' (which covers employment conditions and labor practices).
The authors also point out that ethical sourcing, which often uses labeling as a means for consumers to identify approved products, differs from the labeling of organic products, which refers to the environment in which they are grown. Using case studies from academics and practitioners, Stephanie Barrientos and Catherine Dolan have pulled together an interesting collection of papers that examine the various strategies encountered in ethical sourcing of food products and the effect on society. This work has a special message for its readers: everything you eat will have an impact, not just on your waistline, but on the world.
— Marilyn K. Alaimo, garden writer and volunteer, Chicago Botanic Garden