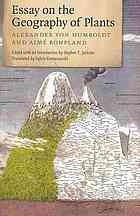 Publisher:
University of Chicago Press
Cloth, 274 pp., $45.00
A chance meeting on a plane to Paris resulted in this first English translation of Alexander von Humboldt'sEssay on the Geography of Plants. Stephen Jackson, professor of botany and ecology, was seated next to Sylvie Romanowski, professor of French. He mentioned his frustration in trying to read Humboldt's Essai sur la géographie des plantes. Romanowski suggested perhaps she could help. She did indeed, producing an elegant translation of the Essai and the accompanying Tableau Physique, plus an overview of the volume followed by a section detailing how Humboldt and his observations fit in the context of the late Enlightenment.
This book is a treasure chest of information. In addition to the extensive background information, there are chapters by Jackson on the plant species cited, instruments used by Humboldt, and biographical sketches of the individuals mentioned in the Essay.
— Joan Richards, volunteer, Chicago Botanic Garden