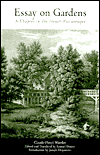 Publisher:
University of Pennsylvania Press
cloth, 91 p., $29.95
French painter, poet, playwright and theoretician Claude-Henri Watelet (1718–1786) led an influential life during the period when French fashions and politics were challenged by a changing social order. Recognized for his aesthetic sensibilities, he became a tastemaker among his peers and high society in the 18th century. In his Essay on Gardens, he reflected on the need to return to a simpler lifestyle — in this case, a landscape — which was both useful and pleasurable. He struck a middle ground between Rousseau's theory of "back to nature" and the self-indulgent lifestyle of the wealthy.
Editor and translator Samuel Danon has done a masterful job in providing a European point of view of garden-making during the period. It is intellectually refreshing to read opinions, other than those usually found in English texts, and to compare them to those generally accepted as truths. Watelet certainly expressed nationalistic bias, as in his subtle references to extremes in the English landscape at Stowe and in modifying the designation of the "English garden" to "jardin anglo-chinois." However, he was equally critical of the rigid symmetry and excesses found in French landscapes.
Despite the fact that centuries have passed and the cultural climate has changed since the French critic wrote about his theories on design, many of Watelet's concepts, such as the importance of the appropriateness in the character of landscape furnishings to the genius of the site, are viable today. Readers will benefit from his wisdom.
— Marilyn K. Alaimo, garden writer and volunteer, Chicago Botanic Garden