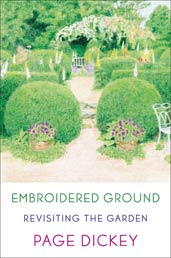 Cloth, 250 pp., $26.00
Page Dickey, author, lecturer, and garden designer, has written a charming book reflecting on the changes over 40 years in her garden as well as in her life. This is like a leisurely stroll through Duck Hill with Dickey pointing out some of her favorite plants, reflecting on the evolution of this treasured space.
Even if you are not a gardener, you will enjoy Dickey's comments on life with Bosco, the mixed blessings of dogs in the garden, the magnificent tom turkey strutting his stuff in the yard, all told with humor and whimsy. Each chapter is short so you can pick up the book and read a chapter or two in a few spare moments. This is a lovely visit with an accomplished gardener who is eager to share her insights.
— Joan Richards, volunteer, Chicago Botanic Garden