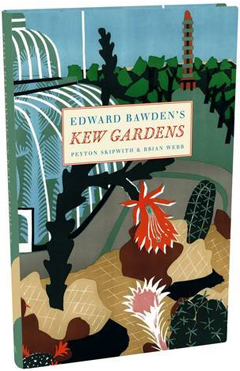 Decorated boards, 128 pp., $30.00.

A gem of a book! This work gives the reader a clear and detailed history of Kew, accompanied by cunning, detailed drawings with an unusual style and sly humor, much like New Yorker cartoons. You can always recogmize that style, much as you can recognize Bawden's line drawings of Adam and Evelyn at Kew.

At the beginning of its history, Kew was a garden for the Royal family. Over time, Joseph Banks (1743-1820) William Jackson Hooker (1785-1865) Hooker brought back unusual plants from around the world to Kew, adding new structures such as the Palm House, Orangery, and finally the Pagoda. Eventually, the Pagoda became a symbol for Kew as well as a landmark on the grounds. In the last century, with the expansion of public transportation, posters advertising Kew helped draw the public to its space and plants. The playground for aristocrats became over time a place for meditation, relaxation, and intellectual growth, as Kew has become one of the most botanical and horticultural centers on the planet. This book rightfully takes its place as a charming and useful social history of Kew. - Adele Kleine, volunteer, Chicago Botanic Garden.