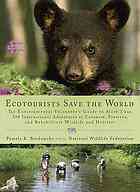 Publisher:
Perigee (a division of Penguin)
Paper, 333 pp., $18.95
The goal of this book is to encourage volunteers to assist in the work of preserving the world's wildlife habitats. More than 300 international sites are reviewed regarding their purpose in saving a specific animal population and habitat. The book is divided by continents and by countries where conservation efforts are being made. A description of each site includes the sponsoring organization, the location of the site, contact source, any costs, dates and duration of work, when to apply, and special field notes, such as equipment required and any training. The text is essentially an introduction to careers in conservation.
—Marilyn K. Alaimo, garden writer and volunteer, Chicago Botanic Garden