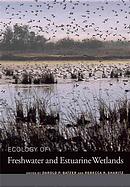 Publisher:
University of California Press
Decorated boards, 568 pp., $59.95
This survey of freshwater and estuarine wetlands by contributing international scholars in the field of ecology brings a fresh perspective and an interdisciplinary approach to a fragile environment of frequent study and political interest. Intended as a textbook with technical tables and illustrations, it covers a series of highly relevant topics. After defining the habitat, the work addresses the physical wetland environment, the ecology of key organisms, how the ecosystem functions, and — when the integrity of the environment declines — the steps that can be taken to restore the ecosystem. An extensive reference to literary sources is particularly valuable for scientists and students.
— Marilyn K. Alaimo, garden writer and volunteer, Chicago Botanic Garden