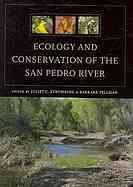 Publisher:
University of Arizona Press
cloth, 529 pp., $85.00
According to experts, arid and semi-arid lands comprise approximately one quarter of the land surface of the United States, so an examination of such environments is critical not only to the welfare of those who live there but also to the nation as a whole. In this compilation of reports by contributing authors on the status of the upper San Pedro River basin, the editors have directed attention to five major areas of concern of this riparian site without a dam. The inquiry concerns the vegetation, the fauna, the effects of human activities upon the land, the hydrology of the site, and finally, conservation activities and water management efforts to achieve sustainability of this natural resource. The goal of the editors was to develop "a multi-disciplinary treatise on scientific pattern and process, historical and ongoing change, and conservation efforts for this particular river." This urgently needed study assists scientists and land managers in managing this and similar threatened sites across the country.
— Marilyn K. Alaimo, garden writer and volunteer, Chicago Botanic Garden