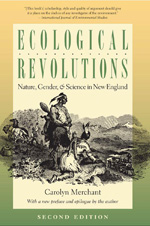 Publisher:
University of North Carolina Press
paper, 394 pp., $29.95
As a recognized authority on environmental history, Carolyn Merchant presents her latest thoughts on ecology and history in dialectic discussions of past and current theories. In the preface to the second edition, she reports on the "new and exciting directions" for environmental historians and expands on these challenges, which include—but are not limited to—the debate over the role of nature in ecological changes. She introduces the feminist role in everyday life as a new narrative type and closes with the global changes that would affect the relationships between men, women, and nature, as well as the sustainability of nature's assets. Occasionally illustrated with tables and maps to support her theories, this work is of special interest to those involved in environmental studies.
— Marilyn K. Alaimo, garden writer and volunteer, Chicago Botanic Garden