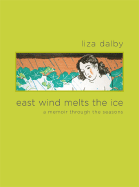 Publisher:
University of California Press
hardcover, 318 pp., $24.95
Both a garden journal and personal diary, this fascinating collection of essays traces the gentle flow of the seasons as based on a Chinese almanac that affected the Japanese calendar. The year was divided into 72 periods. Each calendar division is identified by a poetic phrase of that chronicles the changes in nature over a year. As a scholar of Japanese culture, Liza Dalby compares her American background in northern California with her experiences in Japan. She examines the differences and similarities between ancient China and Japan with modern Japanese and American environments.
— Marilyn K. Alaimo, garden writer and volunteer, Chicago Botanic Garden