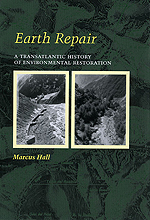 Publisher:
University of Virginia Press
After defining the differences between restoration and preservation of the environment, environmental historian Marcus Hall discusses the history of the conservation movement in both America and Europe. Stating that all restoration efforts must be based on the past, he emphasizes that the history of a site is of crucial importance. The author describes the "classic division of early twentieth century American conservation" into two opposing camps: the preservationists, who wish to preserve an untouched natural beauty, and the utilitarians, who wanted to use the natural resources for the benefit of humanity. People's attitudes toward nature have changed over the centuries. Nature was once considered responsible for the damage it caused, but now human beings are blamed for destroying natural habitat, and dedicated American environmentalists seek to repair it.
Hall compares European attitudes and experiences in restoration over the centuries to that of the relatively recent American efforts in a series of important case studies. This well-written book reveals the contrasts in national views superbly, providing American readers with a better understanding of international thought on restoration practice.
— Marilyn K. Alaimo, garden writer and volunteer, Chicago Botanic Garden