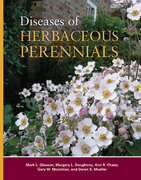 Publisher:
American Phytopathological Society (APS) Press
cloth, 281 pp., $79.00
As more herbaceous plants are introduced into North America, gardeners, educators, and those in the horticultural industry find a need for knowledge on how to care for these perennials. The purpose of this volume is to identify the diseases that attack these ornamental plants and provide information on how to deal with these problems. The authors, all experts in this horticultural field, point out the need for a correct diagnosis of a plant's disease before integrated pest management (IPM) efforts can begin. This work contains a review of common disease symptoms, the degree of damage each might have on a specific plant, and remedies to specific problems. Focusing on diseases by host plant genus, the text contains descriptions and color illustrations of each disease with information on its treatment. Readers will find a useful tool for plant identification in the common-Latin name directory; other helpful information includes a glossary and a listing of readings on specific disease topics.
— Marilyn K. Alaimo, garden writer and volunteer, Chicago Botanic Garden