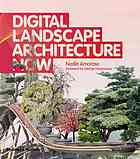 decorated boards, 304 pp., $60.00.
During the last few decades there have been tremendous technological changes in the landscape architecture profession thanks to the use of digital technologies. Digital methods provide the professional with the opportunity to explore different aspects of a design as well as prepare legal documents more quickly. In this book, Nadia Amoroso highlights significant experiments with the use of digital design and presents an overview of its many uses in landscape architecture. This broad survey examines the works of a number of prominent firms across the globe, providing insight into practical applications of technologies in landscape architecture.
— Marilyn K. Alaimo, garden writer and volunteer, Chicago Botanic Garden.