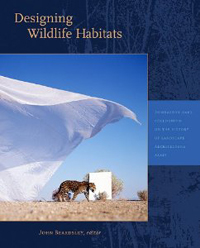 Publisher:
Dumbarton Oaks Research Library and Collection
Paper, 294 pp., $50.00.
 
This publication from the Dumbarton Oaks Research Library Collection on cultivating wildlife contains the records of a symposium, the 34th Dumbarton Oaks Colloquium on the History of Landscape Architecture, held in Washington, D.C., in 2010. The theme of this conference was the role of design in the protection, management, restoration and even wholesale re-creation of habitat for wildlife. Broadly, the papers in this work point out how landscapes function, rather than how they exist as an art form. Stewardship of the land for the purpose of protection of wildlife, particularly endangered species, covered a broad field. Reaching back in time, historians recalled hunting parks of medieval rulers. Contemporary discussions reviewed such topics as spatial scale and biodiversity in the creation of habitats and management of wildlife in reserves and elsewhere. Although aimed at historians and practitioners, essays in this work are stimulating reading for all with an interest in the conservation of wildlife.
- Marilyn K. Alaimo, garden writer and volunteer, Chicago Botanic Garden.