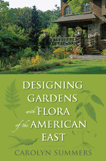 Paper, 221 pp., $23.95
Carolyn Summers begins chapter one with a question: "Why should we garden with indigenous plants?" This question is then followed by a quote from Charles C. Mann's America, Found and Lost (2007), setting forth the theme of this book. The reader will gain a greater appreciation of what it means to provide for a sustainable environment through learning to select indigenous species for the garden. The author teaches about how the use of indigenous plants will help to:
Conserve resources and reduce maintenance
Maintain a healthy web of life
Maintain natural processes in our forests, wetlands, fields, and meadows
Maintain the ability of indigenous plants to reproduce
Preserve our regional aesthetic identity and sense of place
Prevent new infestations of invasive plants and disease
Provide the best available food and habitat for wildlife
The text provides useful lists of desirable plants that can be used in place of opportunistic varieties that have been imported over the years. This book is a welcome addition to the gardener's library.
— Amy M. Lewitz, master gardener and plant information volunteer, Chicago Botanic Garden