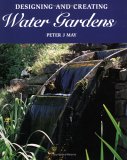 cloth, 224 p., $50.00
Water gardens are once again becoming popular in the home grounds, and British garden designer Peter May is among the talented landscapers who specialize in creating water features in home gardens and as award-winning displays at flower shows in the U.K. He shares the results of his experience in his practical directions on factors for consideration. These include various long-term problems that may be encountered and maintenance demands for water features.
The author relates the steps and materials that go into the implementation of a successful design. There is a wide range of quality and expense in the projects illustrated, but the instructions on implementation are for simple pools on smaller properties. The author thoughtfully outlines the items that go into a budget for a proposed water feature.
Although the materials shown are products found in the British market, similar equipment can usually be found in the U.S. The clarity of the text and excellent illustrations on installation of both still and moving water features are highlights of the book. The text includes chapters on suitable plantings and decorative accessories, including selection and care of fish. Full color photographs of award-winning exhibits at British flower shows provide a cascade of water feature ideas for ambitious gardeners.
— Marilyn K. Alaimo, garden writer and volunteer, Chicago Botanic Garden