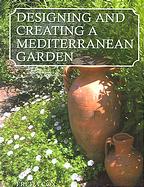 hardcover, 256 p., $50.00
British author Freda Cox raises the question of whether replicating the garden style and plantings of a warmer, more arid climate in a cooler region with greater rainfall is appropriate. In this book she proceeds to share her positive conclusion in an answer that may intrigue American readers too. She points out that since the times of the Romans, plants from the Mediterranean have been successfully grown in the British isles. As climate changes reflect the effects of global warming, it is anticipated that more and more plantings from this region can be grown successfully in increasingly warmer, drier environments elsewhere.
As for creating a Mediterranean garden, the author details the basic elements and applies these features to the traditional contemporary landscape, showing how they can be skillfully incorporated into a new or existing garden. As a guide to the Mediterranean style, she provides illustrations of notable sites and a directory of suitable plantings. Unfortunately, some of the illustrated subjects are unrelated to the topic, and the book has some problems in its organization. Handsomely illustrated with full-color photographs and line drawings, the book is inspirational.
— Marilyn K. Alaimo, garden writer and volunteer, Chicago Botanic Garden