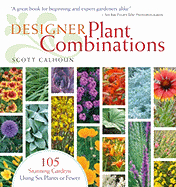 paper, 239 pp., $18.95
This book offers invaluable advice on mixing plants in combinations for what Calhoun calls "a self-contained little part" of the whole garden. He hopes to spark the reader's imagination "in a way that is useful but not pedestrian" for both novices and expert gardeners.
Each of the six chapters has color-coded pages defining such sections as perennials, ground cover, and grasses. The beautiful color photographs of plant combination will inspire any gardener. Calhoun also adds some wonderful personal comments. Describing one private setting, he notes: "I exclaimed in delight."
Calhoun includes indexes at the back, including inspirational public gardens and design resources. This book is very well organized and inviting both for long-time gardeners looking to insert a few accents in a particular location, or for beginners ready to make an interesting statement in a small space.
— Joan Richards, volunteer, Chicago Botanic Garden