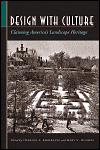 Publisher:
University of Virginia Press
paper, 215 p., $22.50
In this collection of essays on the heritage of historic landscape preservation, scholars in the field of landscape design assess the importance of individuals and organizations that played pioneer roles in the preservation movement in the United States. The authors emphasize that these leaders laid the groundwork to save the heritage of the nation, and that their initial activities forged the guidelines that direct such efforts today.
Most of the text is devoted to the development of the current methodology of historic landscape preservation. However, the three essays that are of a revisionist nature are possibly the most intriguing to readers. These deal with the origins of the movement and the misinterpretation of the California historic landscape.
An essay by Catherine Howett points out that women's groups that have been at the forefront of the historic preservation movement have never received the recognition they so deserved. She provides some thoughtful answers to this lack of public appreciation for their leadership role. Readers might also draw the conclusion from the remaining chapters of the book. Because professionals and academics achieved their status through their reports, magazine articles, and books, the significant role of non-professional women and their organizations, such as the Mt. Vernon Ladies Association and women's garden clubs, was ignored. Thanks to the generous editors and dedicated authors, this omission has been rectified in a text that will raise greater historical awareness in its readers.
— Marilyn K. Alaimo, garden writer and volunteer, Chicago Botanic Garden