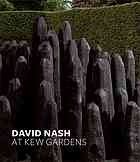 Publisher:
Kew (distributed by the University of Chicago Press)
paper, 96 pp., $24.00.
Renowned British sculptor David Nash is the creator of a series of works for a special exhibition at the Royal Botanic Gardens, Kew. Consisting of sculpture, drawings, and film installations, these artistic expressions are displayed throughout the site, both indoors and outdoors on the grounds from June 2012 through April 2013. This catalog provides a permanent record of a monumental display of wood and metal sculptures in many forms. This handsome record relates the artist's relationships to individual pieces and techniques used in harvesting raw materials and creating their unique forms.
— Marilyn K. Alaimo, garden writer and volunteer, Chicago Botanic Garden.