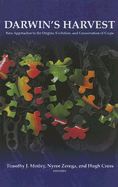 Publisher:
Columbia University Press
hardcover, 390 p., $69.50
In this broad collection of plant crop studies, the editors have selected some intriguing stories about a variety of tropical and temperate crop plants that are fundamental to the diet of many around the world. The studies examine some new approaches in agriculture research. The volume is divided into four parts: the first two relate to the origin of crops and the beginnings of agriculture; the third applies to human history and crop evolution; and the final section examines contemporary research on crops and the conservation of germplasm. Even though this book is technically oriented and meant for those in crop research and related fields, the introductory pages provide the general reader with some background on the challenges scientists face when creating better crops in order to feed the world's growing population. They recognize that attempts must be made to keep a crop's biodiversity for its protection. As the editors note, recent technological changes in methods to establish the origin of plants have dramatically affected previously accepted concepts, opening up new fields for study.
— Marilyn K. Alaimo, garden writer and volunteer, Chicago Botanic Garden