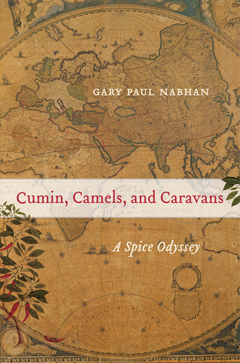 Publisher:
University of California Press
Cloth, 305 pp., $29.95.

This book is a singular achievement. The author traveled along four prominent trade routes -- the Silk Road, Frankincense Trail, Spice Route, and Camino Real. He followed caravans of itinerant spice merchants from frankincense-gathering grounds and ancient harbors of the Arabian Peninsula to the China Sea to the desert of Santa Fe in the United States.

The book follows a historical path interspersed with personal encounters with food, how specific spices are used, and family cooking. One recipe for dates calls for four cups of live locusts, mixing them with salt, fennel, and coriander seeds and then adding chopped dates. No wonder spices were so important! I will forego summaries of amber musk deer and camel's breath tea.

Nabhan's stories, recipes, and linguistic analyses of cultural diffusion routes reveal the extent to which aromatics, such as cumin, cinnamon and peppers, became adopted worldwide. This is a most absorbing book and highly recommended. - Adele Kleine, volunteer, Chicago Botanic Garden.