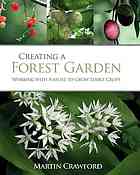 Cloth, 384 pp., $49.95
Martin Crawford has filled these 384 pages with an incredible amount of information on the whole notion of a forest garden, and more importantly how to create one. This work is organized into three parts: how forest gardens work, designing your forest garden, and extra design elements and maintenance. The foreword by Rob Hopkins provides historical context on Robert Dart, whose forest garden in Shropshire inspired thousands of forest gardens around the world. Crawford's own demonstration garden in the Dartington estate in Devon has become an example for those interested in agroforestry.
This book is extremely well organized and detailed, addressing almost any issue a novice forest gardener might encounter. This wonderful attention to detail is evidenced by the classification of shrubs, all the way from those with fruit or edible leaves to those which could be used for poles or baskets. Even if you are not planning on installing a forest garden, this book is fascinating. The photographs, capturing scenes in Crawford's garden, are superb.
— Joan Richards, volunteer, Chicago Botanic Garden